Tags
A Monster Calls, Adam Silvera, Alan Moore, Anna and the Swallow Man, Book Challenge, Book Worm, books, Douglass Adams, Gavriel Savit, List Challenge, Patrick Ness, Siobhan Dowd, Steve Moore, The Hitchhiker's Guide to the Galaxy, The Unfinished Life of Addison Stone, They Both Die at the End, Tiffany Sly Lives Here Now, Title, Top 5, V for Vendetta
Sometimes you can't just judge a book by its cover. Sometimes, there are fetching titles that are just enough to just pique your curiosity. Here are a few books that I had the urge to read because the title drew me in…
They Both Die at the End – Adam Silvera

Oh the bleakness! Oh the finality! A few months ago, I was browsing a bookstore where I saw the title of this book written on the spine of a hardcover novel. Without seeing the cover, I quickly plucked the book from its shelf. My first thought was "wait… what do you mean, they die? I don't want them to die! Wait… but who exactly are they?" My second thought was "that's a bit of a spoiler alert, right?"
They Both Die at the End is about two teenagers will die within 24 hours. Fate draws them together, and they spend their last day trying to find meaning to their lives and deaths.
Side note: This novel used my heart as a punching bag. But it really is a good book.
The Hitchhiker's Guide to the Galaxy – Douglas Adams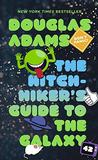 The galaxy is so vast and full of stars and planets and asteroids and meteorites –oh and a lot of empty space, could there really be a guide to the galaxy? I sort of imagined, before I ended up reading this book, that it was a compilation of fictional short stories about the galaxy. Well, this book is hardly about mapping out the galaxy as it is about a typical Englishman and his hitchhiking experiences across the galaxy with his alien best friend as they run into more aliens. It is a laugh-out-loud experience!
V for Vendetta (novelization)– Steve Moore

Sometimes I just have a fondness for particular words. I don't know what it is… when I saw the title "V for Vendetta" I just had to know what "Vendetta" meant. I suddenly loved the word vendetta. Of course, I didn't realize that vendetta is basically a long campaign of revenge (which is basically V for Vendetta in a nutshell). Once I did see the movie and read the novelization, I love the title even more, especially for V's voliloquy.
A Monster Calls – Patrick Ness & Siobhan Dowd

How often do you get monsters calling your house? I sort of envisioned this scary black thing knocking on a kid's door asking, "what's for dinner?" But, A Monster Calls is anything but humorous. It is profoundly touching, and the title is very fitting. A Monster Calls is about how a boy copes with his mother's terminal illness. Like They Both Die at the End, this novel had me in tears.
Anna and the Swallow Man – Gavriel Savit

There's Anna and the French Kiss… and now there's Anna and the Swallow Man. Two completely different books. I wondered, "what is a swallow man?" It didn't occur to me that swallow could also be referring to the type of bird, a swallow. My curiosity was well-rewarded. This is a fantastic book about a girl's journey through the destruction of World War II with the help of a mysterious man called "the Swallow Man."
As you can probably tell, I have an overactive imagination. When I see thought-provoking titles that capture my imagination, I become enraptured in discovering the secrets the book holds between its pages. Honestly, I can't resist! I guess that's why I am a bookius wormius glassius.
6. The Unfinished Life of Addison Stone – Adele Griffin
Brilliant young artist. Her mysterious death. Fandom that won't let her go.

I absolutely love this book so much. It is so realistic and fascinating. The title "The Unfinished Life…" I kept thinking that's an interesting way to put it, unfinished, what a strange word in this context, but so fitting.
7. Tiffany Sly Lives Here Now – Dana L. Davis

Anyone with the name Tiffany Sly sounds like an interesting person. There is just something about the title that provokes questions.
Who's Tiffany Sly? Why does she live "here" now? Where did she live before? Where is "here" exactly?
Any title that provokes so many questions has done its job as an effective hook to draw the reader in.

Until Next Time,
-Alice