Tags
American Gods, Atonement, Au Nom de Tous Les Miens, books, Caraval, Murder on the Orient Express, Outlander, Petronille, The Gentleman's Guide to Vice and Virtue, The Vampire Armand, Top 10
Once again, spring is here, and I finally have more time to read. Sure, I still get to read many books for fun while I am at university, but I am severely limited. When my spring-summer break comes around, I try my best to create a to-read list of the books I desperately want to read. Do I always complete my challenge… well… no… I sometimes get sidetracked by other books. Last year's challenge (2017), I read 6 out of the 10 books on my list. The year before (2016), I read 1 out of 10. Without further adieu, here are my top 10 books I want to read from now until the end of August…
Caraval – Stephanie Garber
I know, I am totally late to the party. It seems as if everyone has read Caraval but me, and now everyone is talking about its sequel, Legendary. I tried not to read many reviews of Caraval because I don't really want to know what it is about. Is that strange? I really want to be surprised.
The Gentleman's Guide to Vice and Virtue – Mackenzi Lee
Yet another book with a lot of hype. I received this book for Christmas, but I had to put off reading it until now. reminded me of the musical The Gentleman's Guide to Love and Murder because of the title, and because both main characters are called Monty.
Au nom de tous les miens (For Those I Loved) – Martin Gray

I always tell myself I should read more French novels to practice my French. It's difficult when I am surrounded by so many novels written in English that I tend to neglect French novels. For those who do not know, French is my second language, but I have been studying French ever since I was six-years-old. Lately, I find that I have been losing my knowledge of French grammar. So, in addition to this list, I will try to read at least two novels in French per month. Au nom de tous les miens (For Those I Loved) is one of the few French books I have on my shelves. It is the story of a holocaust survivor.
The Brontë Family, with Special Reference to Patrick Branwell Brontë – Francis A. Leyland
I am a bit of a Bronte fanatic. Charlotte Brontë is my favorite novelist of all-time, and Emily Brontë is a close second. I do appreciate Anne's novels, but they pale in comparison to her sisters' works. It is not only their novels that fascinate me, it is their biography. They have such a strange and incredible story. Their lives are wrapped in mystery and legend, it is so difficult to distinguish fact from fiction. Out of all the Brontë siblings, Branwell Brontë, the brother of the Brontë sisters, is often turned into a scapegoat. I first "encountered" Branwell's story in the biopic To Walk Invisible. Before, Branwell was just a shadowy figure in my mind. As I began reading about him, I uncovered how unjustly he had been treated by biographers. He was the failure of the family, the disappointment. Imagine going down in history as "the disappointment." I have read Daphne du Maurier's biography The Infernal World of Branwell Brontë, but I wish to read Leyland's biography as he actually met Branwell while he was still alive.
Atonement – Ian McEwan
Atonement was on my 2016 list. It's been on my bookshelf for two years and I still haven't picked it up. I really want to read it before I watch the movie. It's just one of those books that linger on my to-read shelf for years before I finally decide to pick it up and read it.
Petronille – Amelie Nothomb
After discovering Amelie Nothomb in my French literature classes, I vowed to eventually read all of her books. I really appreciate that all of her books are rather short. It is not that I generally seek out books that do not take a long time to read, whenever I read novels in French, I tend to prefer shorter novels. Amelie Nothomb's novels give me just enough of a challenge without feeling overly daunting (I'm looking at you Notre Dame de Paris by Victor Hugo – I barely finished two pages). There are some authors out there whose books are generally the same genre, but Nothomb's books are so different. So far, I have read Journal d'Hirondelle, Acide Sulfurique and Ni d'Eve ni d'Adam, and they are all very unalike.
Murder on the Orient Express – Agatha Christie

I am sort of shocked that I never read anything by Agatha Christie. She is just one of those prolific writers whom nearly everyone has heard of. I watched the recent version of Murder on the Orient Express recently with a friend of mine, and it kept me guessing until the very end. I do hope the original novel does not follow the exact same plotline as the movie.
The Vampire Armand – Anne Rice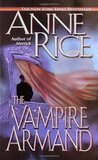 Anne Rice has written so many novels featuring Lestat and the other vampires from The Vampire Chronicles. And she's still writing Lestat's adventures. I am not complaining. I too do not want her to stop writing about Lestat, but I am so behind. So far, I have read five out of the twelve (soon to be thirteen) novels in the series.
American Gods – Neil Gaiman
A year ago, a friend of mine recommended American Gods. I ended up renting the book from my library in ebook form. But, I was so slow at reading that it expired before I had the chance to read 10% of it. It's a long book and a bit of a slow read, but I did find it interesting.
Outlander – Diana Gabaldon
Like Atonement, Outlander has been on my list before. It's such a huge novel (900 pages), and it's basically a commitment. I read maybe 50-70 pages before putting it on hold.
— What books do you plan to read this spring or this summer? — Let me know in the comments below!
Until Next Time,
-Alice